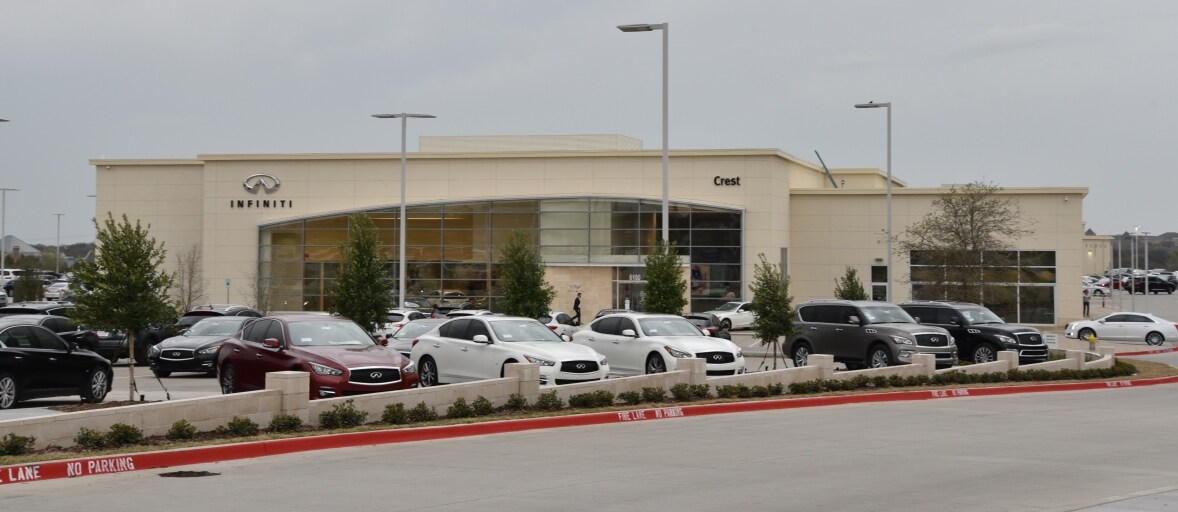 Since we first opened our doors 25 years ago, Crest INFINITI has earned a strong reputation as a top-notch Dallas-area INFINITI dealer. Dedicated to providing our customers with true value and unparalleled customer service, Crest INFINITI has become one of the leading Texas INFINITI dealerships. Quite simply, we are committed to making sure each and every customer is treated with the highest level of respect and courtesy. At Crest INFINITI, we consider our customers to be our family, and as such, we strive to provide the utmost in customer care.
As a respected Texas INFINITI dealer, we believe our success is credited to not only our focus on the customer, but also to our focus on community. As long time members of the greater Dallas community, Crest INFINITI looks to help better our local neighborhoods through involvement in several prominent organizations, such as the American Heart Association, Emmitt Smith Charities and the Wounded Warrior Foundation. We also help sponsor the annual Smiles Charity Concert that raises funds to go toward building homes for lower income families in the Dallas area.
If you're in the market for either new or used INFINITI cars, you'll find a wide selection of the best INFINITI inventory at Crest INFINITI. Our impressive collection of new INFINITI cars for sale in Frisco include many popular models like the 2017 INFINITI Q70 and the 2017 INFINITI QX80. We also host a wide-ranging assortment of used NFINITI cars for sale near Dallas on some of the most sought after INFINITI models. Also be sure to look into the many INFINITI financing options offered on our stock of new INFINITI cars.
On top of our incredible inventory, Crest INFINITI also boasts a state-of-the-art auto repair shop. If you're looking for quality car repair near Dallas, our factory-trained service technicians are here to provide our customers with quick and efficient service or repair work. While you're here, stop by our dedicated parts department that offers a large selection of OEM-certified INFINITI parts.
From the team of experienced professionals we employ to our exclusive VIP Service & Valet Concierge program, we strive to deliver excellence not only in the cars we sell, but the services we provide. Whether you come to us to purchase a new or used INFINITI, or visit us for routine service and auto repairs, you can depend on all of us at Crest INFINITI to do whatever it takes to provide you with the most enjoyable experience possible. Come visit us today and see how we are Driving Excellence each and every day.