Crest Infiniti is a Dallas Fort Worth area Infiniti dealership and carries a full inventory of New Infiniti EX35 and top quality high value Used Infiniti EX35 as well as other cars & trucks.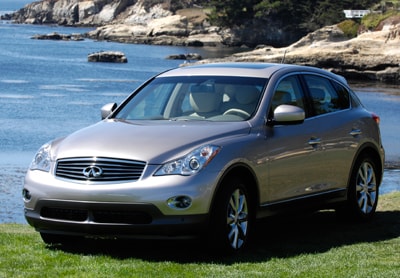 When consumers compare the Infiniti EX35 to other makes like the BMW X3, Audi Q5, Mercedes GLK and Volvo XC60 , the 2011 Infiniti EX35 shines as the most fun-to-drive. Starting with the 2010 Infiniti EX35, owners found this affordable SUV's crisp handling and lively acceleration to be reason enough to choose.
You'll like the Infiniti EX35, luxury compact suv, when you visit Crest Infiniti in Dallas Fort Worth
.The 2011 EX35 is a uniquely personal expression of style and luxury. Crest Infiniti in Plano is proud to offer the EX35's uncommonly exceptional performance and appearance. The BMW X3, Audi Q5, Mercedes GLK and Volvo XC60 lack the EX35's inspirational spirit and singular design. Infiniti, overall, is Automotive Lease Guide's '2011 Best Luxury Brand.' Visit Crest Infiniti to step behind the wheel of an all-new 2011 Infiniti EX35 and find out why Infiniti is like no other.
In a sea of luxury compact SUVs, few have achieved the prestige and owner loyalty of the Infiniti EX35. Debuting at the Los Angeles Auto Show in 2007, the 2008 EX35 wowed the audience with its individual styling and powerful engine. A 3.5 liter V6 propelled the EX35 to an impressive 0-60 M.P.H. in just over 6 seconds. The Infinity EX35 came standard with 17-inch wheels, keyless entry, and high quality cloth upholstery. For all of the amenities and exceptional quality of the'08 EX, it was surprisingly affordable. At an MSRP of just under 35,000, this compact SUV was luxury that was accessible to more than the super wealthy. Also unique to the Infiniti EX35 was its handling; this was a vehicle that performed with the strength of an SUV but the speed and handling of a sport-tuned sedan. For outstanding value on a used EX35, visit Crest Infiniti in Plano.
There are 2 Trim Levels available for the 2011 Infiniti EX35: the EX35 base and the EX35 Journey. Each of the Trim Levels also features an EX35 AWD option for the adventurous at heart. Stop by Crest Infiniti today for excellent financing options and deals on an all-new 2011 EX35 SUV.
Infiniti is known for its one-of-a-kind vision and devotion to automotive superiority. The 2011 EX35 at Crest Infiniti continues Infiniti's tradition of excellence with a total ownership experience that rivals any luxury SUV on the market. The EX35 features a 3.5 liter V6 with aluminum-alloy block and heads, and an electronically controlled 7-speed automatic transmission with Adaptive Shift Control. The Infinity EX35 is road-ready with an independent front double-wishbone suspension, and an independent rear suspension featuring multi-link with coil springs. The EX35 comes standard with 18-inch aluminum-alloy wheels with V-rated all-season tires.
The Infiniti EX35 Journey at Crest Infiniti takes the luxury of the EX35 to a whole new level with a variety of standard and optional amenities like: heated front seats, an advanced climate control system with auto-recirculation and a Plasmacluster air purifier and a grape polyphenol filter, power up-folding 2nd-row seats, and gorgeous maple interior accents. Ride in style with a Bose 11-speaker audio system with AM/FM/CD player with MP3 playback capability. Also optional in the 2011 EX35 Journey is the Infiniti Hard Drive Navigation System with a touch-screen display, Lane Guidance and 3-D building graphics. The all-new EX35 Journey is available in Midnight Garnet, Moonlight White, and Arctic Blue. Crest Infiniti in Plano has the 2011 EX35 Journey featuring Infiniti's 4-year, 60,000 mile basic warranty, so drive one home today!
New technologies in the EX35 and EX35 Journey at Crest Infiniti include Blind Spot Warning, a system which helps alert the driver if another vehicle is detected in the blind spot area. Blind Spot Intervention is a first of its kind system that, in addition to the Blind Spot Warning, helps the driver return the vehicle back toward the center of the lane of travel in the event of unintended drift.
There are an infinite amount of situations and possibilities on the road, so why not drive a luxury SUV with renowned safety features? The EX35 Trim Levels feature Infiniti impact protection technology such as the Infiniti Advanced Air Bag System, Active Head Restraints, Electronic Brake force Distribution, and ABS. The EX35 at Crest Infiniti even has a Forward Collision Warning device that will alert you to an imminent collision by providing a visual and audible warning.
Here's the reasons why the Infiniti EX35 has earned the right to be your popular luxury compact suv in beaufiful TX
Crest Infiniti offers the Infiniti EX35 a 4-door SUV which seats 5 people satisfactorily. The EX35 weighs 3,757 pounds, is 182.3 inches long, 71 inches wide, 61.9 inches high, and the Infiniti EX35's turning radius is 17.4 feet. surprisingly spacious for its class, the EX35 has 40.5 inches of headroom in the front, and 44.3 inches of legroom up front. In the EX35's back seat, there are 38.4 inches of headroom and 28.5 inches of legroom. Need to bring a lot of luggage? The EX35 trunk holds up to 18.6 cubic feet of your belongings. So, spread out and have a good time!
Standard Infiniti safety features included in the EX35 are traction control, anti-lock brakes, side airbags, driver airbags, side-impact bars, seat-belt pre-tensioners, passenger airbags. With all these features, the Infiniti EX35 is always rated tremendously by the IIHS and NHTSA.
The EX35 also has a raft of comfort and convenience features, including power steering, remote locks, power windows, power mirrors, climate control, cruise control, air conditioning, power seats, adjustable steering wheel, and more! Especially nice are available hands-free phone and navigation. Test drive the Infiniti EX35 in Dallas Fort Worth at Crest Infiniti.
Like all Infiniti cars & trucks, road handling and performance are top priorities for the EX35. Passing horsepower in the base EX35 is 297 hp @ 6,800 rpm, and producing excellent torque 253 lb-ft @ 4,800 rpm foot pounds/rpm, the EX35 accelerates briskly from 0 to 60 mph in just 5.9 seconds. If you want to go that fast, the EX35 has a top speed of 144 miles per hour. Despite this excellent power train output, the Infiniti EX35's fuel economy is rated at 17 miles per gallon in the city and 24 highway miles per gallon. With a fuel tank capacity of 20 gallons, the EX35 cruising range is well above average. Truly a performance car!
The Infiniti manufacturer's warranty covers the EX35 for manufacturing defects and has these specifications 4 Years / 60,000 miles. Infiniti has worked for years to minimize environmental impact, and the EX35's carbon footprint is rated very low. Not surprisingly, with all these EX35 advantages, this great Infiniti SUV retains a high percentage of its value at 3 years and 36,000 miles, which makes the Infiniti EX35 a great used buy!
When seeking a safe, economical, sporty and stylish SUV, Plano consumers should head to the Infiniti dealer of choice, Crest Infiniti at 2501 N. Central Expressway in Plano TX.
Infiniti EX35 service information for Dallas Fort Worth
Infiniti EX35 owners and lessees in Dallas Fort Worth have found that Crest Infiniti on 2501 N. Central Expressway in Plano is the very best choice for EX35 warranty work, regular maintenance & inspections, and mechanical repairs. At Crest Infiniti, Certified Infiniti Technicians, trained in the very latest diagnostic and corrective techniques, work for one thing only ? your complete satisfaction. Whether it's time for your Infiniti to have an oil change, or tire rotation, or if you need a regular EX35 Scheduled Maintenance, Crest Infiniti is your first choice. Wheel alignments are another specialty of our Certified Infiniti Techs, and, here on 2501 N. Central Expressway, we are the smartest choice in Dallas Fort Worth, for quick courteous and professional Infiniti Service of all kinds.
If you'd like to make an appointment to have your EX35 serviced, click the link or just give us a call. See you soon.