The 2012 Infiniti FX35 from Crest INFINITI is the embodiment of dedicated automotive craftsmanship built to fit the needs of TX Infiniti aficionados. Crest INFINITI is delighted to present the 4-door 2012 Infiniti FX35 Crossover SUV. As your Plano Infiniti dealer, we hope you find our 2012 Infiniti FX35 reviews and research materials invaluable in finding the accessories, specifications and information you've been waiting for. View Crest INFINITI's new lineup of 2012 Infiniti FX35 Crossover SUVs.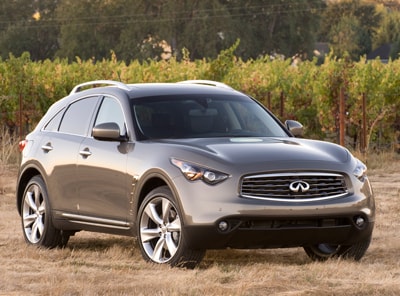 Crest INFINITI presents the 2012 Infiniti FX35 Crossover SUV
Consumers find that when they compare the 2012 Infiniti FX35 to other makes like the Lincoln MKX, Audi Q7, BMW X6 and Acura MDX, the Infiniti FX35 distinguishes itself as the most fun to drive. Take a look at our Quick List spec table below to see why!
The 2012 Infiniti FX35 has an starting MSRP of $43,450
The 2012 Infiniti FX35 gets 16 city / 21 highway MPG
The 2012 Infiniti FX35 goes from 0-60 MPH in 5.8 seconds
The 2012 Infiniti FX35 features 44.7 inches of legroom up front and 34.6 inches in back
The 2012 Infiniti FX35 features 39.3 inches of headroom in front and 38.5 inches in back
The 2012 Infiniti FX35 is 191.3 inches long, 75.9 inches wide and is 65 inches tall
The 2012 Infiniti FX35 weighs 4,299 pounds and has a turning radius of 18.3 feet
We know you'll enjoy the Infiniti FX35 - visit Crest INFINITI in Plano today!
Crest INFINITI is proud to carry one of the sportiest and most eye-catching luxury midsize SUVs on the market - the 2012 Infiniti FX. This unique series of aggressively styled sport utility vehicles is defined by its impressive technology, performance and elegance, all of which make it a terrific choice over other luxury SUVs like the Lincoln MKX, Audi Q7, BMW X6 and Acura MDX. The 2012 FX is fit for every season with a new all-wheel-drive FX35 Limited Edition trim. And this year, it also features an attractive new front fascia. In Infiniti FX reviews, the midsize SUV consistently receives high marks for its distinctive looks, energetic ride and variety of package options. Visit Crest INFINITI to find the 2012 Infiniti FX, along with a large collection of low-mileage used Infiniti FX SUVs.
Unparalleled safety is an important part of the Infiniti FX experience. In the Insurance Institute for Highway Safety's Infiniti FX reviews, the SUV receives top scores in crash tests year after year. The FX is outfitted with a plethora of high-end safety features that are designed to maximize your security on the road. Driving reaction is enhanced with Infiniti's Vehicle Dynamic Control (VDC) and Traction Control System (TCS). Frisco Infiniti shoppers can also protect themselves with an available Lane Departure Prevention (LDP) system which helps avoid vehicle drift, a primary cause of accidents. The Infiniti FX50's Forward Collision Warning (FCW) system helps avoid potential collisions and Intelligent Brake Assist (IBA) engages to diminish the force of an impact. Additionally, the Infiniti Advanced Air Bag System includes supplemental side impact air bags and rollover sensors for head protection. Learn more about these advanced features at Crest INFINITI today.
Frisco residents can now find the 2012 Infinity FX35 and FX35 Limited Edition at Crest INFINITI. The FX35 embodies the legendary styling and high-performance capabilities that Infiniti is known for. Equipped with a pulse-quickening 303-horsepower 3.5-liter V6 with 262 pound-feet of torque, the FX can sprint from 0-60 mph in just 6.6 seconds. Advanced Infiniti FX technologies like Continuous Damping Control and Rear Active Steering give you greater command over performance and handling. The 2012 Infiniti FX50 from Crest INFINITI has an even greater power quotient thanks to a hefty 5.0-liter V8 that pumps out 390 horsepower and 369 pound-feet of torque. It includes Intelligent All-Wheel Drive to add stability in all road conditions, and Infiniti's Variable Valve Event and Lift (VVEL) technology which boosts acceleration and maximizes efficiency.
Every journey is enriched by Infiniti's signature interior styling. Leather seating, 10-way adjustable driver's seats and black lacquer trim offer Plano Infiniti shoppers comfort and style. Driving distractions will be a thing of the past with features like Bluetooth hands-free calling. And additional features such as a standard Bose 11-speaker Premium Audio system with an MP3 Music Box hard drive (with USB port) and XM Satellite Radio provide entertainment during long or short commutes. Other cutting-edge amenities include: an Advanced Front Midship Platform, Infiniti Push Button Ignition, illuminated steering wheel-mounted controls and a RearView Monitor. The FX is one of the most capable and well-appointed luxury SUV crossovers in the nation, flaunting a long list of standard features and several package options including the Premium, Deluxe, Touring, Technology and Sport. Call or visit Crest INFINITI to learn about the 2012 FX35, FX35 Limited Edition and FX50's lists of standard and available features.
Infinity's Total Ownership Experience begins with our standard 6-year/70,000 mile powertrain warranty and 24-hour roadside assistance. Plano Infiniti owners also have access to complimentary loan cars during warranty servicing and Trip Interruption Benefits covering meals, lodging and more if your vehicle breaks down 100 miles or more from home. Add to this our Crest INFINITI VIP Program which includes free oil service for the first year, a complimentary gas card and pickup/drop off when your vehicle is being serviced.
It's no wonder that Infiniti was Automotive Lease Guide's '2011 Best Luxury Brand.' This year they're going after the title again, and vehicles like the refreshed 2012 Infiniti FX may help the automaker take the gold once more. Crest INFINITI's entire line of new and used Infiniti FX SUVs is on sale now! Come in today to test drive an FX35 or FX50 in exciting colors like Umbria Twilight, Moonlight White, Midnight Mocha and Iridium Blue.
Cruising in a Infiniti FX35 from Crest INFINITI makes TX driving commodious, safe and fun - all at the same time! This is why:
Crest INFINITI has a gigantic collection of 2012 Infiniti FX35 Crossover SUVs with standard Infiniti safety features like anti-lock brakes, traction control, driver airbags, passenger airbags, side airbags and more, making the 2012 FX35 an NHTSA and IIHS favorite. In addition to these safety features, the 2012 Infiniti FX35 can capably seat up to 5 passengers. Trunk space with Infiniti is never a worry; the FX35 can hold up to 24.8 cubic feet of your equipment, ensuring that your next excursion is hassle-free. To top it all off, the 2012 Infiniti FX35 includes an unbelievable list of comfort and convenience extras like powered windows, mirrors, doors and locks, climate control, AC and optional hands-free phone and navigation systems. Take a test drive at Crest INFINITI today and experience the Infiniti FX35 for yourself.
The Infiniti manufacturer's warranty covers the FX35 for manufacturing defects and has a 4 Years / 60,000 miles Infiniti warranty. Infiniti has worked for years to minimize its environmental impact; as a result, the FX35's carbon footprint is minimal. Not surprisingly, with all of the FX35's advantages, this remarkable Infiniti Crossover SUV retains a high percentage of its value at 3 years and 36,000 miles, which makes the Infiniti FX35 a great used buy! When seeking a safe, stylish and economical Crossover SUV, Frisco Infiniti aficionados should head to Crest INFINITI, located at 2501 N. Central Expressway in Frisco, TX
Infiniti FX35 service information for Plano
Infiniti FX35 lessees and owners in Plano have found that Crest INFINITI at 2501 N. Central Expressway in Frisco is the very best choice for FX35 warranty work, regular maintenance, inspections and mechanical repairs. At Crest INFINITI, Certified Infiniti Technicians trained in the very latest corrective and diagnostic techniques work for one thing - your complete satisfaction. Whether it's time for your Infiniti to have an oil change, serpentine belt replacement, or simply undergo FX35 Scheduled Maintenance, Crest INFINITI is your first choice. Our Certified Infiniti Mechanics also complete specialty jobs and repairs. Crest INFINITI is the smartest choice in Plano for fast, accommodating and professional Infiniti Service of all kinds.
If you'd like to make an appointment to have your FX35 serviced, click the link or just give us a call. Stop by soon!