Crest INFINITI is electrified to be the commanding location for the Infiniti G37 in TX. Crest INFINITI is an Plano Infiniti dealership and carries a massive inventory of New Infiniti G37 and top quality and high value Used Infiniti G37 and other cars & trucks.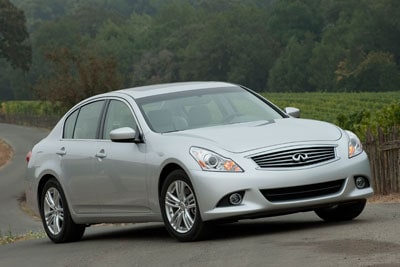 When shoppers compare the Infiniti G37 to other makes like the BMW 3-Series, Acura TL, Mercedes C-Class , the 2011 Infiniti G37 shines as the most fun-to-drive. Starting with the 2010 Infiniti G37, owners found this affordable Sedan's crisp handling and lively acceleration to be reason enough to choose.
You'll dig the Infiniti G37, upscale midsize car, when you go shopping at Crest INFINITI in Plano
The revolutionary Infiniti G line is powerful, fast, and economical. The exhilarating and enjoyable G is available in several models: The G37 Sedan, G37 Journey, G 37 Coupe Journey, G37 Coupe AWD, G37 Coupe Sport 6MT, G37 Convertible Sport 6MT, G37x Sedan (AWD), G37 Sport 6MT, G25 Sedan, G25x Sedan or the G15x, which will be an All Wheel Drive vehicle. It comes equipped with a 2.5L V6 engine that is predicted to produce 195 lb-ft of torque with 210 horsepower channeled through a standard seven-speed gearbox. With its rear-wheel drive dynamics, power-adjustable leather seats, six-speaker audio, automatic climate control, HID Xenon headlamps, and 17' aluminum wheels, this car redefines luxury. The moderately priced G25 also includes Shodo aluminum interior trim, 4-way power front passenger's seat and 8-way power driver's seat and, Vehicle Dynamic Control (VDC), 4-wheel Anti-lock Disc Braking System (ABS), and Traction Control System (TCS). Options include heated outside mirrors and front seats, as well as a RearView monitor and dual-zone temperature control. The 2011 Infiniti G25 Sedan has the same charismatic interior, exterior, and chassis as the G37, but includes a smaller sized displacement engine. Older models include pre-2003: G20 Sedan and 2003-2009: G35 Sedan and G35 Coupe. This high-end luxury line is comparable to the BMW 3-Series, Acura TL, Mercedes C-Class & Lexus IS 350. The G line encompasses several options, including the G Sedan MSRP starting at $30,950, G Coupe MSRP starting at $36,050, G Convertible MSRP $44,350. Crest INFINITI in Frisco has the best selection of all new 2011 Infinitis Plano area, so stop by today.
The Infiniti G37 takes everything G coupe drivers love about their vehicles and includes the infinite pleasure of driving with the top down. More than just fun, this convertible is user friendly, with its retractable hardtop roof! With an MSRP of $44,350 (or $46,950 for the Sport), the Infiniti G37 convertible provides 325-hp V6. The Infiniti V6 packs a powerful punch, while maintaining its classy looks. To make sure that the audio capabilities were not compromised, Infiniti tested how top-down driving affected the ability to hear music while driving. The results did not disappoint. The Bose 13-speaker Open Air Sound System perfectly equalizes based on vehicle speed and outside noise. To make the music more personalized, it includes Front Seat Personal Speakers that are built right into the headrests. Additionally, the adaptive climate control system also makes adjustments for top-down driving. It automatically adjusts the fan speed depending on vehicle speed top position. An optional wind blocker makes the interior even more serene when driving at higher speeds. For added comfort and luxury, heated front seats and leather upholstery simply add to the vehicle's appeal. Test drive one today at Crest INFINITI in [Dealership City].
Besides being flashy and classy, Infiniti knows a thing or two about safety. The G37 convertible is built on a reinforced structure, with safety features being invisible to the naked eye. With hidden rollover protection bars that stay disguised unless sensors deploy them in an emergent situation. An Adaptive Front lighting System, Pre-Crash Seatbelts, and Intelligent Cruise Control with Preview Braking are available for added protection.
For the driver with attitude, the Sport model takes it up a notch with Acceleration Swell ? a progressive, seemingly limitless rush of power, larger brakes, sport-tuned steering, and unique seating, with 19 inch aluminum alloy wheels and performance tires.
If you still want more, the G37's 7-speed automatic transmission with Drive Sport Mode and Downshift Rev Matching is available, and includes magnesium paddleshifters. The Sport Package on the standard model also includes eight-way power passenger's seats and the 10-way power driver.
The G line is loaded with features. Distance Control Technologies, like All-Around View Monitor, Blind-Spot Warning, Lane-Departure Warning, and Intelligent Cruise Control (Full Speed Range) is just one of the accolades. It also encompasses Infiniti Studio on Wheels Bose 10-speaker Audio system with XM radio/traffic/weather/ & Zagat Restaurant Reviews. Additionally, Infinity proudly presents the 328-hp 3.7-liter VVEL V6 award winning ?VQ' motor, and Advanced Front Mid-ship Platform. Maintenance costs are lower because VQ uses a timing chain and not a timing belt. .' Infinity offers all of this with a 4 year 60,000 mile Basic Warranty. It's no wonder that Infiniti, overall, is Automotive Lease Guide's '2011 Best Luxury Brand' and Car & Driver's 10Best for 2009, and AutoPacifc's 'Most Highly Recommended Vehicle.' Crest INFINITI in Frisco, TX proudly offers the Infiniti G line with all-new Trim Levels and countless options.
Here's why the Infiniti G37 ought to be your favored upscale midsize car in majestic TX
Crest INFINITI offers the Infiniti G37 a 4-door Sedan which seats 5 people pleasantly. The G37 weighs 3,590 pounds, is 187 inches long, 69.8 inches wide, 57.2 inches high, and the Infiniti G37's turning radius is 17.7 feet. astonishingly ample for its class, the G37 has 40.5 inches of headroom in the front, and 43.9 inches of legroom up front. In the G37's back seat, there are 37.7 inches of headroom and 34.7 inches of legroom. Need to bring a lot of luggage? The G37 trunk holds up to 13.5 cubic feet of your stuff. So, sit back and have fun!
Standard Infiniti safety features included in the G37 are traction control, anti-lock brakes, side airbags, driver airbags, side-impact bars, seat-belt pre-tensioners, passenger airbags. With all these features, the Infiniti G37 is always rated tremendously by the IIHS and NHTSA.
The G37 also has a raft of comfort and convenience features, including power steering, remote locks, power windows, power mirrors, climate control, cruise control, air conditioning, power seats, adjustable steering wheel, and more! Especially nice are available hands-free phone and navigation. Test drive the Infiniti G37 in Plano at [Dealership Name].
Like all Infiniti cars & trucks, road handling and performance are top priorities for the G37. Passing horsepower in the base G37 is 218 hp @ 6,400 rpm, and producing excellent torque 187 lb-ft @ 4,800 rpm foot pounds/rpm, the G37 accelerates like a flash from 0 to 60 mph in just 5 seconds. If you want to go that fast, the G37 has a top speed of 155 miles per hour. Despite this excellent power train output, the Infiniti G37's fuel economy is rated at 19 miles per gallon in the city and 27 highway miles per gallon. With a fuel tank capacity of 20 gallons, the G37 cruising range is well above average. Truly a performance car!
The Infiniti manufacturer's warranty covers the G37 for manufacturing defects and has these specifications 4 Years / 60,000 miles. Infiniti has worked for years to minimize enviromental impact, and the G37's carbon footprint is rated very low. Not surprisingly, with all these G37 advantages, this great Infiniti Sedan retains a high percentage of its value at 3 years and 36,000 miles, which makes the Infiniti G37 a great used buy!
When seeking safe, economical, sporty and stylish Sedan, Frisco shoppers should head to the Infiniti dealer of choice, Crest INFINITI at 2501 N. Central Expressway in Frisco [Dealership State].
Infiniti G37 service information for Plano
Infiniti G37 owners and lessees in Plano have found that Crest INFINITI on 2501 N. Central Expressway in Frisco is the very best choice for G37 warranty work, regular maintenance & inspections, and mechanical repairs. At Crest INFINITI, Certified Infiniti Technicians, trained in the very latest diagnostic and corrective techniques, work for one thing only ? your complete satisfaction. Whether it's time for your Infiniti to have an oil change, or tire rotation, or if you need a regular G37 Scheduled Maintenance, Crest INFINITI is your first choice. Wheel alignments are another specialty of our Certified Infiniti Techs, and, here on 2501 N. Central Expressway, we are the smartest choice in Plano, for quick courteous and professional Infiniti Service of all kinds.
If you'd like to make an appointment to have your G37 serviced, click the link or just give us a call. See you soon.