Infiniti JX35 Review for 2013 Model Year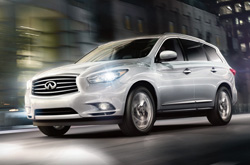 Crest Infiniti is your trusted Dallas resource for reviews of the 2013 Infiniti JX35. Crest Infiniti stands out from the other local dealers with products and services designed to assist you in your search.These well-written reviews will help you do just that. Make familiar decisions when it comes to your next auto purchase, don't take guesses! Each paragraph is stuffed with material and vehicle features in way that's easy to understand. Does the JX35 have what it takes to be your next Infiniti? Continue reading and find out!
Take a Look inside the Infiniti JX35
Salient Infiniti JX35 Specifications
When considering the 2013 Infiniti JX35 next to the 2013 Lexus RX, AUDI Q7, Buick Enclave and the Acura MDX, and you can notice that the JX35 outshines those autos in loads parts. Scan the hightlights below.
2013 Infiniti JX35 Colors: Glacial Silver, Midnight Garnet, Midnight Garnet, etc...
2013 Infiniti JX35 0-60 MPH in 5.7 seconds
2013 Infiniti JX35 MSRP: $40,650
2013 Infiniti JX35 MPG: 18 city / 23 highway
2013 Infiniti JX35 Cargo Space: 15.8 cubic feet
2013 Infiniti JX35 Seats: 7 passengers
2013 Infiniti JX35 Body Style(s): SUV
Features, Trims & Other 2013 Infiniti JX35 Highlights
Dallas Infiniti JX35 Owner Warranty Info & Safety
Affordable Infiniti Service in Dallas, Texas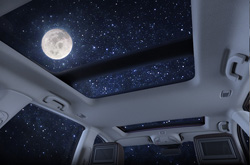 You won't get Infiniti trained service techs, a generous warranty on service and real Infiniti parts at a conglomerate auto facility in Dallas, so visit Crest Infiniti instead. Infinitis in Dallas can take a triumphing, so turn to the auto repair wizards in Dallas - Crest Infiniti. Whether you're hunting for cheap shock and strut repair or less time consuming work like tire rotation and replacement or standard oil changes, we'll take care of it! And these things are just a portion of the work we do. It's clear - to get reasonable prices and wizards Infiniti repairs, Crest Infiniti should be your main choice when picking a Dallas auto center. The link below this paragraph is your roadway to savings! Click now and you'll be connected to our coupon specials page!
Contact our service center day or night using our online form