Plano Infiniti Dealer Researches the New QX80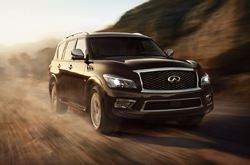 The 2015 Infiniti QX80 reviews concur the QX80 is a true luxury SUV, and a standout for those who want a vehicle that's sturdy and rugged, yet plush and exclusive inside. The Infiniti badge may not be the first image that springs to mind when you think of a big, brawny three-row SUV, but it should be. The QX80 is powered by a 5.6-liter V-8 delivering 400 horsepower and 413 pound-feet of torque and is rated for up to 8,500 pounds towing capacity. The body-on-frame QX80 shares some automotive DNA with the military-grade Nissan Patrol, giving it authentic off-roading capabilities. 

The exterior design is imposing and powerful. The headlights, fog lights and turn signals are all LED and the front bumper contains sonar sensors for the adaptive cruise control and forward collision-alert system.

The cabin is distinctive and can accommodate seven in unparalleled luxury. 2015 Infiniti QX80 reviews call the cockpit of the QX80 radiant. This look and feel reflects the grace and finesse of Infiniti's Q70 sedan. Finely finished burled wood swathes the instrument panel. From the jaunty angles of the dash to the aluminum embellishments on the shift lever, Infiniti's designers have imbued the cabin with quality and substance.

Take the helm in a 2015 Infiniti QX80 in Plano. Revel in the abundance of standard features, including navigation with a hard drive for maps and music; DVD audio and satellite radio; 20-inch wheels; a moonroof; a power tailgate; Bluetooth with audio streaming; pushbutton start; USB connectivity for audio players; and leather trim.

New safety features in the 2015 Infiniti QX80 include adaptive headlights that automatically switch the high beams if another vehicle is approaching, and a sophisticated collision warning system. Other tech features include brake assist, a backup collision warning system, adaptive cruise control, and blind spot and lane departure warning systems.

While other prestige brands are still doodling out designs for their luxury SUV entrants, Infiniti just keeps setting the bar higher and higher. You can fall in love with the 2015 Infiniti QX80 in Plano at Crest Infiniti.