About Crest INFINITI QX60 Reviews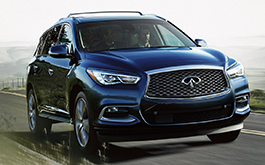 Over the years, luxury car shoppers have consistently chosen the INFINITI QX60 as their next new family car. Sporting an impressive powertrain, a cabin full of premium amenities and top-notch safety features, the QX60 continues to be a terrifically popular crossover SUV. For the newest model year, the 2016 INFINITI QX60 in Frisco is getting a few fantastic updates that are sure to continue its popularity among Valley crossover shoppers.
Available in both gas and hybrid models, the 2016 QX60 boasts a set of impressive powertrains. The gas-powered model works off of a a very commanding 3.5-liter V6 engine that is paired with a continuously variable transmission, while the QX60 Hybrid uses a supercharged 2.5-liter inline four-cylinder, an electric motor and a compact lithium-ion battery. Both engine options provide exceptional power and fuel numbers, but many 2016 INFINITI QX60 reviews do recommend the hybrid if you're looking for the most efficiency out of the crossover.
New features and equipment for the 2016 model year include updates to both the crossover's interior and exterior designs. The car's interior cabin is now decked out with everything from contrast stitching and chrome accents to soft-touch materials and a driver-oriented cockpit. Drivers will also find several fun pieces of tech on the 2016 INFINITI QX60 in Frisco, including a power-sliding moonroof, tri-zone automatic climate control, Bluetooth connectivity and a six-speaker sound system.
Exterior design changes include an upgraded suspension and chassis that provide a firmer, more agile driving feel. There are also new LED daytime running lights, flush-mounted sonar sensors on the front and rear bumpers, a restyled double-arch grille and a chrome finisher on the car's rear hatch.
The 2016 QX60 is now available at Crest INFINITI in Frisco. For more information about the crossover, including estimated mpg and MSRP, continue browsing the rest of our 2016 INFINITI QX60 review below!