Frisco INFINITI Dealer Reviews the 2016 INFINITI QX80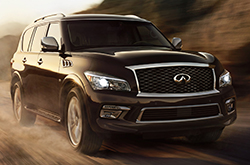 The latest 2016 INFINITI QX80 model is being considered "the most premium SUV" ever developed by INFINITI. Offered in three unique models - QX80, QX80 AWD and QX80 AWD Limited - the SUV caters to a wide range of buyers in the market for a new crossover. For 2016, INFINITI has added a new Signature Edition model into the mix that comes with new exterior and interior components, as well as a new paint option to the QX80 AWD Limited model's color palette. Additionally, the model comes with standard automatic high beam control, an improved front mitigation system that debuted on last year's model and a high-performance V8 engine that you can read more about in our 2016 INFINITI QX80 review below.
An amazing 400-horsepower 5.6L V8 engine powers the brand-new 2016 INFINITI QX80 in Frisco. Paired with a seven-speed automatic transmission, the engine is able to push the SUV from 0 to 60 mph in 6.8 seconds. With support from the seven-speed automatic, the QX80 can also tow up to 8,500 pounds with no problems and produce an EPA-estimated 16 mpg combined, 14 mpg city and 20 mpg highway. These numbers are possible on both rear-wheel drive and four-wheel drive models, making both configurations great choices for buyers.
New to the QX80's lineup this year is the Signature Edition model. Comprised of features found on the Driver Assistance and Split Bench packages, the Signature Edition adds chrome mirror caps, a Saddle Tan interior and bodyside moldings to the 2016 INFINITI QX80 in Frisco. In addition to this new package, the QX80 AWD Limited model offers a new paint color option, Hermosa Blue, which brightens the SUV's exterior. Additional paint colors available on the model include Mocha Almond, Imperial Black and Dakar Bronze.
If you'd like to find out further info about the new QX80, continue browsing our 2016 INFINITI QX80 review below.