The 2012 Infiniti M37 from Crest INFINITI is the apotheosis of passionate automotive craftsmanship built to fit the needs of TX Infiniti shoppers. Crest INFINITI is thrilled to present the 4-door 2012 Infiniti M37 Sedan. As your Plano Infiniti dealer, we hope you find our 2012 Infiniti M37 reviews and research materials useful in finding the accessories, specifications and information you've been on the lookout for. View Crest INFINITI's new lineup of 2012 Infiniti M37 Sedans.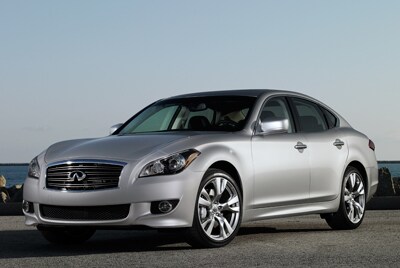 Crest INFINITI presents the 2012 Infiniti M37 Sedan
Buyers find that when they compare the 2012 Infiniti M37 to other makes like the Acura RL, BMW 5 Series, Audi A6 and Hyundai Genesis, the Infiniti M37 emerges as the most fun to drive. Look at our Quick List spec table below to see why!
The 2012 Infiniti M37 has an starting MSRP of $47,700
The 2012 Infiniti M37 gets 18 city / 26 highway MPG
The 2012 Infiniti M37 goes from 0-60 MPH in 5.9 seconds
The 2012 Infiniti M37 features 44 inches of legroom up front and 36.2 inches in back
The 2012 Infiniti M37 features 39.1 inches of headroom in front and 37.7 inches in back
The 2012 Infiniti M37 is 194.7 inches long, 72.6 inches wide and is 59.1 inches tall
The 2012 Infiniti M37 weighs 3,858 pounds and has a turning radius of 18.3 feet
We know you'll appreciate the Infiniti M37 - visit Crest INFINITI in Plano today!
The Infiniti M offers a perfect combination of sport and luxury. With its vivacious performance and abundance of high-end amenities, it indulges sports-minded driving enthusiasts and luxury car buyers. The 2012 Infiniti M sets the mold for modern sport-infused luxury sedans. And this year, it features a new hybrid option for environmentally conscious Frisco car shoppers. The prestigious Infiniti M Class has set a high benchmark for vehicles like the Acura RL, BMW 5 Series, Audi A6 and Hyundai Genesis. Infiniti was Automotive Lease Guide's "2011 Best Luxury Brand," and it is no surprise considering the M's notable styling prowess and unbridled power. Visit Crest INFINITI to find a new or used Infiniti M sedan for sale today. When you take a test drive you'll understand why numerous Infiniti M reviews state that this luxury sedan is the most sporting in its class.
The Infiniti M Class coupe first graced dealer lots in 1990. Equipped with a 3.0-liter V6 engine, the M30, as it was called then, featured intelligent body styling and a sophisticated bearing. In 1991, Infiniti released a convertible version of the M to the delight of summertime drivers everywhere. Following this, a second-generation M Class was released in 2003 with a new alphanumeric moniker. The V8 powered M45 generated 340 horsepower and featured a more traditional design. A few years later, the M received even more changes. A completely redesigned M35 and M45 hit the market in 2005, flaunting an improved performance, upgraded interior and attractive exterior facelift. In a 2008 Consumer Reports Infiniti M review, the publication wrote that the M Class was the "Best car we've ever tested." Infiniti continues to create high-performance luxury vehicles that defy the status-quo and wow the competition. Crest INFINITI offers the finest selection of new and used Infiniti cars in the Plano area.
Frisco Infiniti M shoppers can choose from five trim options this year: the M37, M37x, M56, M56x and all-new Infiniti M35h. The race-car inspired sedan is road and weather ready with all-wheel-drive equipped models and the integration of cutting-edge suspension elements. The 2012 M is equipped with an independent double-wishbone front suspension with coil springs over shock absorbers, along with a stabilizer and anti-roll bar. The rear suspension features a similar setup, utilizing an independent multi-link with coil springs and a stabilizer plus anti-roll bar. A Sport Package is also available on select models and features 4-Wheel Active Steer and a sport-tuned suspension with double piston shock absorbers that provide high damping force at low frequency vibrations for a flat ride. Low damping force at high frequency gives the Infinity its classic smooth ride. Stop by Crest INFINITI today to test drive the finest in luxury vehicles. When you visit our Plano Infiniti dealership, please also inquire about our special finance and lease options.
The 2012 Infiniti M37 at Crest INFINITI features a 3.7-liter V6 with 330 horsepower and 270 pound-feet of torque. The M56 comes with a 420-horsepower 5.6-liter V8 that produces 417 pound-feet of torque. Both models have a double overhead camshaft and Variable Valve Event and Lift, along with an Infiniti Drive Mode Selector that allows Frisco drivers to choose between Standard, Sport, Snow or Eco transmission modes. The all-new 2012 Infiniti M35 Hybrid is outfitted with an advanced powertrain system that generates a combined 360 horsepower via a 3.5-liter V6 gas-fueled engine and electric motor.
The 2012 M at Crest INFINITI is a showcase for Infiniti's advanced, user-focused technologies. Technological features like Active Noise Control reduce undesirable engine harmonics and provide a quieter cabin, while a Blind Spot Warning system alerts the driver if another vehicle is detected in the blind spot area. A Forest Air system helps reduce the intrusion of unpleasant odors into the cabin and provides natural 'breeze-like' airflow. Other features include Eco Pedal, a system that provides driver feedback to encourage eco-conscious driving behavior, and Active Trace Control which adjusts engine torque and brake control on all four wheels to help enhance cornering performance.
Additionally, the 2012 Infiniti M offers smart, next-generation electronics like the Infiniti Hard Drive Navigation System, Lane Departure Warning and Prevention systems, a Bose Studio Surround Sound premium audio system and Intelligent Cruise Control. The M has also received an IIHS "Top Safety Pick" designation thanks to advanced safety features like Distance Control Assist and Intelligent Brake Assist.
With its dramatic sports styling, the M is drop dead gorgeous. However, its sleek body styling is just one part of its charm. The 2012 M's roomy and comfortable interior environment features standard Japanese Ash wood trim or available silver powdered genuine White Ash wood trim, eye-catching standard leather-appointed seating and available premium audio and climate control systems. Key standard features on the 2012 M at Crest INFINITI include Infiniti Intelligent Key with Push Button Ignition, XM Satellite Radio, a Bluetooth Hands-free Phone System and a power sliding glass tinted moonroof. The new 2012 Infiniti M35 Hybrid is similarly equipped to the M37 but offers a hybrid powertrain and added features like Infiniti's Vehicle Sound for Pedestrians (VSP) system.
Get inspired - get into a 2012 Infiniti M sedan at Crest INFINITI and ignite your senses. Plano Infiniti enthusiasts will love the M's unmatched performance and exquisite styling. Visit Crest INFINITI to find a large selection of these popular luxury sedans today!
Driving a Infiniti M37 from Crest INFINITI makes TX driving comfortable, safe and pleasurable - all at the same time! Here are the reasons why:
Crest INFINITI has a gigantic stock of 2012 Infiniti M37 Sedans with standard Infiniti safety features like anti-lock brakes, traction control, driver airbags, passenger airbags, side airbags and more, making the 2012 M37 an NHTSA and IIHS favorite. In addition to these safety features, the 2012 Infiniti M37 can comfortably seat up to 5 passengers. Trunk space with Infiniti is never a worry; the M37 can hold up to 14.9 cubic feet of your equipment, ensuring that your next drive is hassle-free. To top it all off, the 2012 Infiniti M37 includes an unbelievable list of comfort and convenience accessories like powered windows, mirrors, doors and locks, climate control, AC and optional hands-free phone and navigation systems. Take a test drive at Crest INFINITI today and experience the Infiniti M37 for yourself.
The Infiniti manufacturer's warranty covers the M37 for manufacturing defects and has a 4 Years / 60,000 miles Infiniti warranty. Infiniti has worked for years to minimize its environmental impact; as a result, the M37's carbon footprint is minimal. Not surprisingly, with all of the M37's advantages, this great Infiniti Sedan retains a high percentage of its value at 3 years and 36,000 miles, which makes the Infiniti M37 a great used buy! When seeking a safe, stylish and economical Sedan, Frisco Infiniti shoppers should head to Crest INFINITI, located at 2501 N. Central Expressway in Frisco, TX
Infiniti M37 service information for Plano
Infiniti M37 lessees and owners in Plano have determined that Crest INFINITI at 2501 N. Central Expressway in Frisco is the very best choice for M37 warranty work, regular maintenance, inspections and mechanical repairs. At Crest INFINITI, Certified Infiniti Technicians trained in the very latest corrective and diagnostic techniques work for one thing - your complete satisfaction. Whether it's time for your Infiniti to have an oil change, serpentine belt replacement, or simply undergo M37 Scheduled Maintenance, Crest INFINITI is your first choice. Our Certified Infiniti Technicians also complete specialty jobs and repairs. Crest INFINITI is the smartest choice in Plano for swift, amicable and professional Infiniti Service of all kinds.
If you'd like to make an appointment to have your M37 serviced, click the link or just give us a call. We look forward to seeing you soon!